Host your special event at Pirates-Town venues!
Looking for a unique event venue to host your next special event, corporate meeting, birthday, wedding, engagement, etc?
Located near I-Drive, within a short distance from the Orange County Convention Center, and Orlando International Airport, we offer guests unique rental event venues:
A Tavern themed restaurant/meeting venue suitable for 250+ seated guests
A Pirate themed theater restaurant: a building decorated in flashy Caribbean Pirate style with capacity to accommodate 700+ seated guests.
A Pirate themed VIP Lounge furnished with bar-style tables and chairs perfect for buffet style catering for 64+ guests.
A Pirate themed Deck and Open Area with 2 bars, a stage that can be themed for your event, accomodating 700+ guests
Here you find the perfect event venue rental for your wedding, corporate event, seminars, employee parties, training, buy-out option, birthday party or custom event.
We Know Pics Are Worth A Thousands Words,
But Truly Coming To Visit Us Is The Best Option For This Unique Venue.
Watch How Our Partners Can Transform Our Space For Your Event Needs!
Venue Location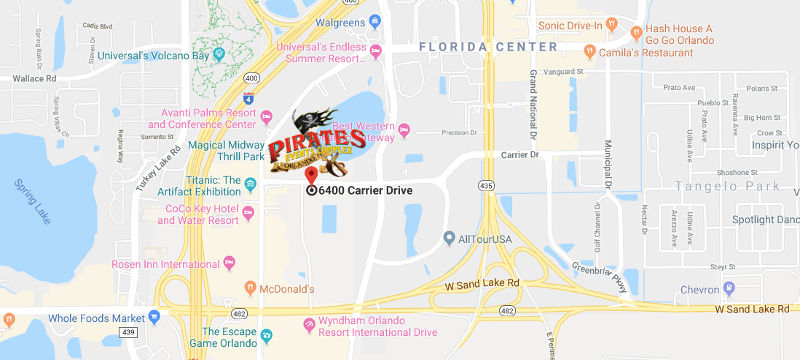 Contact
Contact Marc Tipton, Sales Manager at Phone: 407-206-5102 Ext. 200 or email: events@pirateshow.com to schedule your venue visit today.